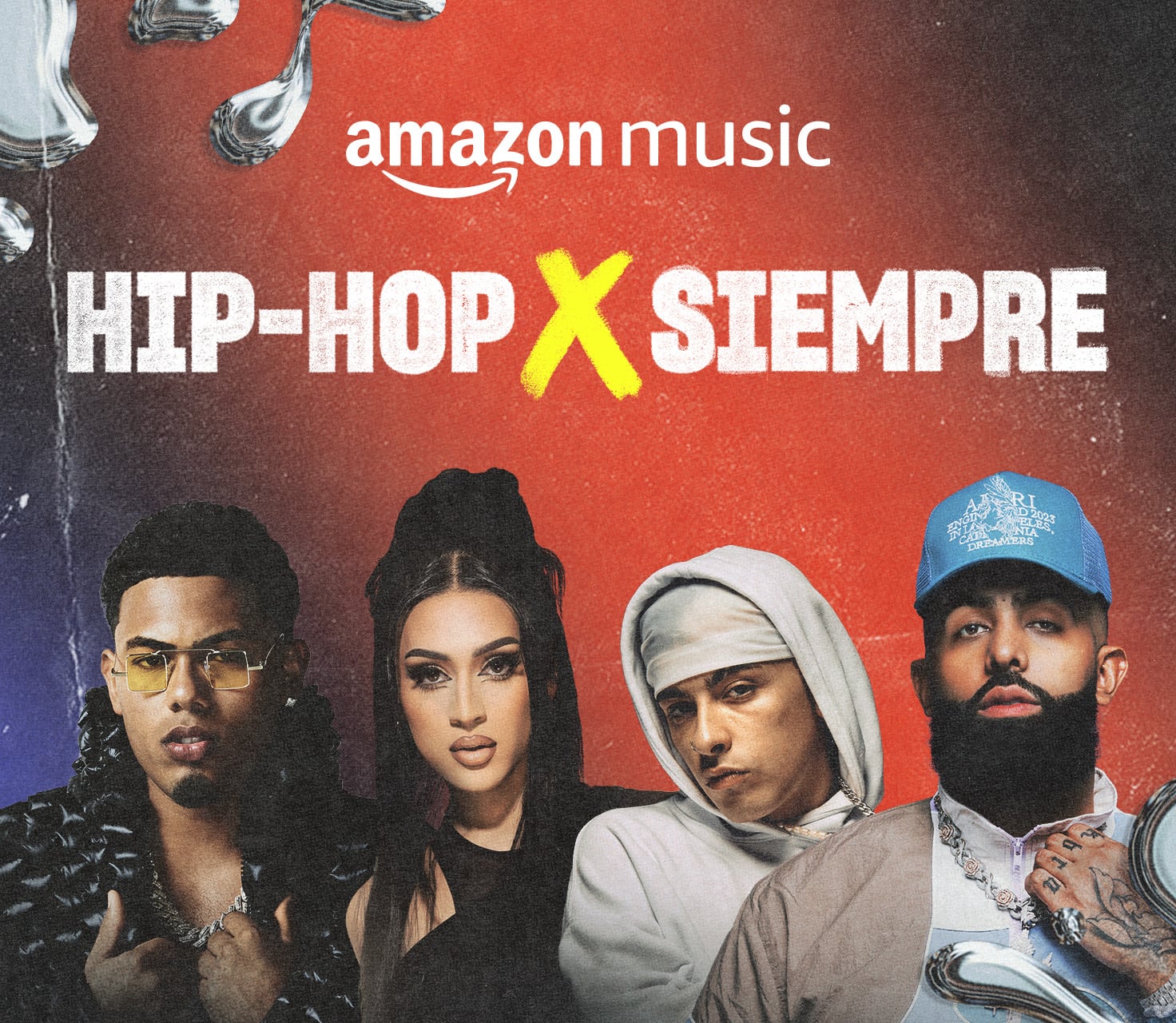 With hip-hop's 50th anniversary soon approaching and the ongoing social media debate on whether or not Latines — including Black Latines — played an important part in the genre's creation, Amazon Music recently released "Hip-Hop X Siempre," a documentary celebrating the Latines who were a foundational part of hip-hop. Produced by veteran director-producer duo Jessy and Ulysses Terrero, the doc features interviews with legendary artists like Fat Joe, N.O.R.E., and Residente, along with rising artists like Villano Antillano, Eladio Carrión, Myke Towers, Alemán, and Snow Tha Product. It's a definitive history of how Latines have contributed to the genre's music and culture in the last 50 years.
"Hip-hop is a natural resource in the United States," Fat Joe says in the first few seconds of the documentary. The legendary rapper is referring to how equitable and valuable hip-hop has become since its conception.
"It's almost a controversial statement because people say that the United States was built off other people's minerals, enrichments, and oils. We have a million theories as to why the United States is what it is," Fat Joe tells POPSUGAR. "They go abroad, and they bring back the natural resources. But hip-hop is a natural resource made from within the United States from the poorest of people."
The genre hasn't just fueled the United States's economy — it's gone global. Almost every country in the world today has its own hip-hop scene. From Spanish-language rap coming from various countries in Latin America — what we know today as reggaeton or Latin trap — to French or Japanese rap, hip-hop exists virtually everywhere. But historically, it was pioneered in the Bronx by Black and Latine communities.
"This all started from poor and oppressed people in the South Bronx."
"This all started from poor and oppressed people in the South Bronx," Fat Joe explains. "The irony is that the South Bronx is still the poorest congressional district in the country, and [hip-hop] has [become] such a rich, valuable art form — it's crazy."
Ulysses Terrero's vision for the 30-minute doc was to tell the story of how Latines played a role in it all — from the MCs to the B-boys to the DJs to the graffiti artists.
"I think our position in the market in terms of where Latinos stand in power, we have in the Spanish language some of the biggest artists in the world — in the US and [around] the globe. And people still deny our power," Terrero tells POPSUGAR. "And when hip-hop had reached the level of success that it was, there was content that mirrored the culture. But for Latinos, we don't have content that mirrors our experience in the United States. We don't. You can't name a show. You can't name anything right now that you can turn on and it feels like the culture you know. That feels like us. That feels like urban Latinos that live in two worlds and that got one foot in Spanish and one in English."
This was why Terrero wanted to make the documentary, to show the part of hip-hop history that's not often told or portrayed in films. Terrero, who is Dominican and grew up in the South Bronx himself, wanted to capture how a musical genre that was born when the Bronx was literally burning ended up providing joy and expression to both Black and Latine people in those neighborhoods.
The documentary also shuts down an age-old debate that denies that Latines were there from hip-hop's very beginnings. Last year, Fat Joe received internet backlash for a statement he made claiming that hip-hop was created "half and half" by Blacks and Latines.
"My response wasn't to be disruptive or controversial," Fat Joe tells POPSUGAR. "My response was just the truth. Me being 52 years old, hip-hop turning 50 this year, and me growing up in the Bronx, just imagine this whole hip-hop culture started in one place and right outside my house. I was there, you know what I mean? I saw all the Latinos break-dancing and doing graffiti . . . growing up in the South Bronx, it was all Blacks and Latinos . . . it was all of us together like gumbo, like a soup, like a sancocho."
"Growing up in the South Bronx, it was all Blacks and Latinos . . . it was all of us together like gumbo, like a soup, like a sancocho."
Not only does the film focus on how Latines contributed to the culture's origins, but it also explores how it's been reinvented with today's Spanish-language MCs and reggaetoneros.
"I think that hip-hop is the mother of all genres in a sense," says Amazon Music's Angie Romero, who served as the film's executive producer. "Urbano speaking on urbano, right? Reggaeton is an expression of hip-hop. Trap is an expression of hip-hop. Dembow is an expression of hip-hop. Everything is an expression of hip-hop because, at the end of the day, it's the story of the underprivileged and the oppressed searching for joy and beauty in chaos. And that's a struggle that's universal."
And looking to the future, "Hip-Hop X Siempre" also beautifully captures how Latines continue to play a role in the genre's evolution. As Terrero says, it's not a documentary "about the birth of hip-hop."
"What we were trying to do is show the ripple effects. Somebody 50 years ago threw a rock in the water, and it created ripples, and those ripples are why some of these guys are standing on stage," Terrero says. "These people are able to live and make a living off of hip-hop today because somebody at that time pushed the culture forward, and those people didn't get rich off of hip-hop. . . . What we wanted to do is give flowers to the old school and blend it with the new school so that the young kids pay attention."
Image Source: Amazon Music