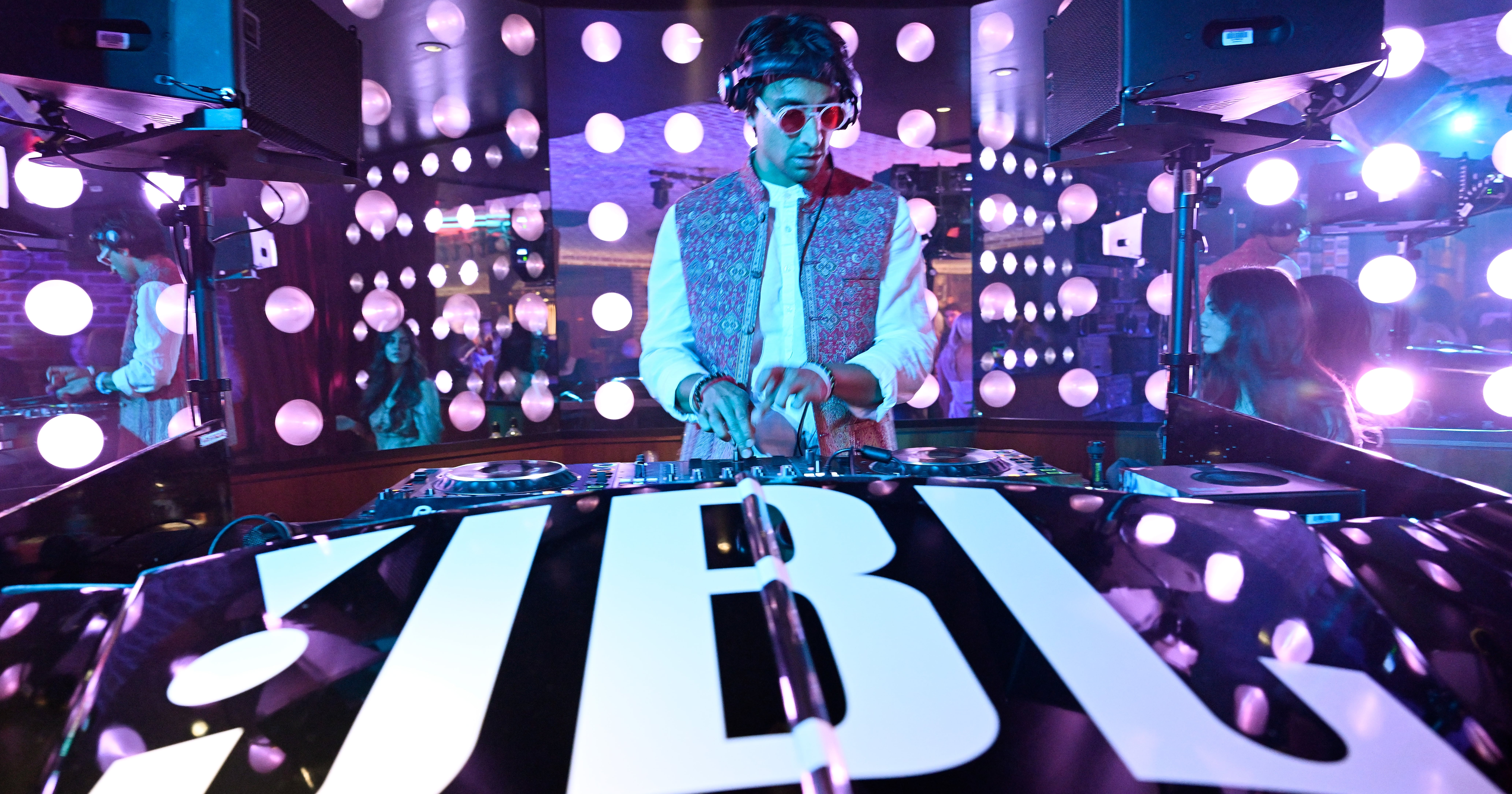 JBL Fest came to Las Vegas for the first time this year, partnering with the music festival Life Is Beautiful to bring a blend of sound, festivity, and surprise to the strip. It was only my second time in Las Vegas and my first time at a music festival in many years, so I wasn't exactly sure what to expect. But performances by the Yeah Yeah Yeahs and The Killers, late-night appearances from Bruno Mars, and plenty of quirky touches created a nostalgia-fueled trip that simultaneously brought me back to the past and anchored me fully in the whirlwind present.
The festival was based at the Park MGM, a proudly eco-friendly hotel that charmed me from the get-go. After grabbing some snacks (and a complementary pair of bluetooth headphones) at JBL's hospitality lounge, I spent the first afternoon of the two-day festival wandering around the spacious pool area and exploring the hotel's array of eateries, shops, and of course, brilliantly colored slot machines. One highlight from the hotel was Haus of Gaga Las Vegas, a collection of some of Lady Gaga's most infamous outfits and paraphernalia from over the years, which reminded me of just how innovative Gaga has always been fashion-wise. (The last time I was in Vegas, I was in the middle of a cross-country road trip and stayed in possibly the seediest motel of my entire trip, so a hotel blessed by Lady Gaga herself definitely felt like an upgrade.)
That night, media professionals in attendance gathered for dinner and drinks ahead of the big JBL Authentics Sound Lounge event. The activation was in honor of the launch of JBL's stylish new Authentics speakers, which come with built-in WiFi and bluetooth and can also optimize their sound to fit the room they're in, to name a few of their capabilities.
The launch took place in a club called On the Record, which, in true Vegas fashion, could be accessed only by weaving through many rows of slot machines. Stars including Olivia Culpo and her sisters Sophia and Aurora as well as Rocky Barnes posed on the small red carpet outside the event as cameras flashed, and inside, a DJ played while influencers and executives milled around the retro-style lounge. I grabbed a Mai Tai from the open bar and wandered into the karaoke room where my interviews would be taking place, observing the vintage album art that covered the walls.
From the get-go, the conversations turned to great musicians of yore. I chatted with Ashlee Simpson, herself a 2000s icon, about her lifelong love of Hole and other grunge icons, while her husband Evan Ross marveled at getting to see his mom Diana sing onstage with Beyoncé. I also spoke to Madison Beer, whose brand new album "Silence Between Songs" also draws heavily from vintage favorites like The Beatles and The Beach Boys. Ultimately, the whole event felt like a tribute to nostalgic musical icons, many of whom smiled or glared at us from their album covers plastered across the walls. As I exited the room after speaking with Ellis about his love of various musical greats, I brushed shoulders with none other than Kravitz and knew the night had really begun.
I'd heard whispers about Bruno Mars appearing throughout the night, and after midnight, we were finally told he was set to appear. He kept us waiting for a little while longer, and finally emerged to sing "Locked Out of Heaven" while encouraging the crowd to dance. This crowd, though, seemed more inclined to sing along — or at least I was, tucked away on the VIP section's leather couches — though eventually the song's infectious chorus and Mars's undeniable star power had everyone tapping their feet. Afterwards, I stole away from the party with a new friend and tried my favorite drink of the night: the Verbena Cocktail at the nearby Cosmopolitan Hotel, a lemony margarita garnished by a spicy yellow plant called a Szechuan button which made my entire mouth feel delightfully fizzy.
The next day, we all gathered for a demonstration of JBL's sound products, which included everything from their waterproof speakers to their new Authentics line. Then I set off for the first day of Life Is Beautiful, taking a shuttle through downtown Las Vegas until I reached the festival grounds. I was amazed at how sprawling the festival was, and how many people were in attendance; it felt like a miniature city.
I walked to the VIP section at the JBL stage, where I waited until Bebe Rexha stepped out wearing a bejeweled corset top that seemed to reflect every one of the stage lights. She belted out her hits while futuristic imagery swirled behind her, but a highlight of her set was when she paused everything to have two audience members compete in a dance-off onstage. One of them — who told us he'd had a bit of 100-proof liquor before the show — seemed poised to win, but it was a Las Vegas native who garnered the loudest cheers with her moves.
Later in the night, a new friend and I headed over to the main stage, where the Yeah Yeah Yeahs were mid-set. Frontwoman Karen O had the crowd in her grip, and she was giving off David Bowie energy in a fringed red jumpsuit. When she announced that it was the autumn equinox that night and there was "extra magic in the air," it almost felt like she was putting some kind of witchy spell on us — and it definitely worked, because by the time she was swirling her microphone over her head and throwing it onto the stage, I was fully in a trance.
The night's final performance was reserved for The Killers, another nostalgic favorite whose songs indeed brought me way back to when I was young, singing along to their hits at music camp and trying to unpack the lyrics of "Mr. Brightside" for the first time during a karaoke session in someone's basement. Brandon Flowers was immediately magnetic when he took the stage in a velvet suit, and he confidently promised us that the one certain thing in Las Vegas that night was that "The Killers are gonna deliver." Despite his extraordinary vocal prowess and an impressive cover of U2's "Where the Streets Have No Name," I admittedly wasn't quite as enchanted with their well-oiled, high-octane show as I had been by the Yeah Yeah Yeahs's raw performance. But still, when "Mr. Brightside"'s unmistakable guitar intro began playing, of course I (and what felt like every single other crowd member) screamed along to every word.
Ahead, see some of the highlights from the festival.