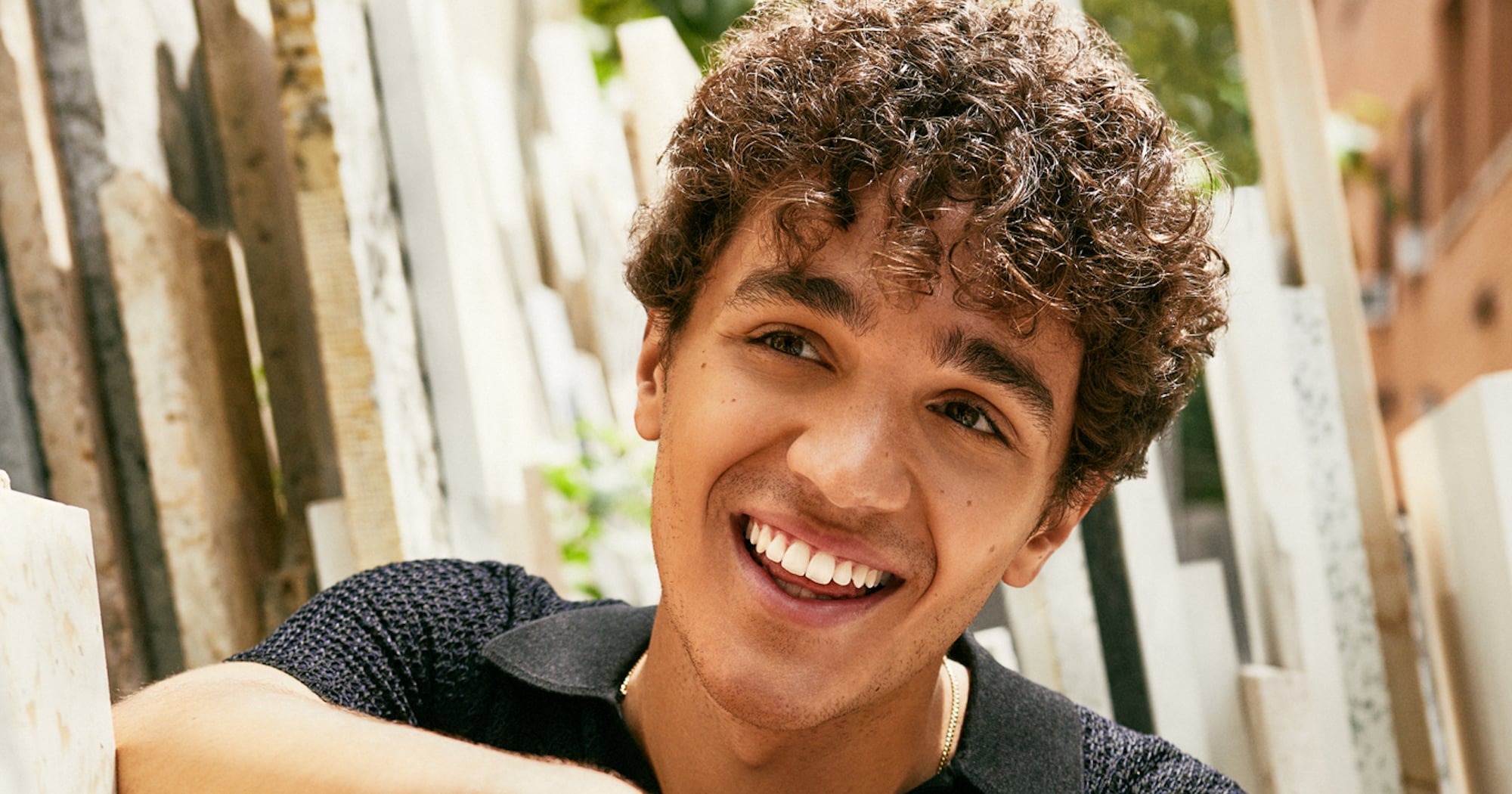 When the first poster for "The Summer I Turned Pretty" season two dropped this spring, it teased a major surprise: the return of David Iacono as Cam Cameron. It's a major departure from Jenny Han's series of books on which the show is based; in the book series, Cam appears briefly in the first installment and never returns.
Iacono, 21, actually knew he was going to be in season two before season one even came out last summer. "I was so excited," he tells POPSUGAR. "I honestly wasn't expecting to get that call because Cam is not in the second or third book. So I was very, very pleasantly surprised."
"I low-key almost spoiled it," he confesses of his return. "I did an interview and I had said that I was coming back, or hinted at it, and I think people picked up on it on TikTok." As for Cam's journey in the new episodes, Iacono teases, "He feels a bit like a fish-out-of-water situation, which I think a lot of the characters are feeling like in the second season." But the whole season, he says, is a little more mature than the first batch of episodes, since everyone is older. "Cam is really going through [it] and trying to figure out what he wants to do, and I think he starts to figure that out."
In the new season, Cam gets to interact not just with Belly (Lola Tung), Conrad (Christopher Briney), Jeremiah (Gavin Casalegno), Steven (Sean Kaufman), and Taylor (Raine Spencer) but also with the newest member of the cast: Conrad and Jeremiah's cousin Skye, played by Elsie Fisher. Iacono says Fisher is "one of the funniest people I've ever known." He adds, "Our senses of humor are so similar that they immediately clicked." Iacono is a big fan of "Eighth Grade," the Bo Burnham-written and -directed film that Fisher starred in back in 2018, and Iacono actually met his now costar at the first season premiere of "The Summer I Turned Pretty," when Fisher was in talks to appear in season two.
And yes, as the show has grown more popular, Iacono has started to be identified more in public. "It especially happens when me and a couple other cast members are together, people just put two and two together," he says. Most memorably, he went to a restaurant with a childhood friend in their South Brooklyn neighborhood a couple months ago. "One of the girls that was working there, she was like, 'Oh my God, Cam Cameron from "The Summer I Turned Pretty!"'" he says. Iacono's friend was stunned. "This kid's known me since I was 7 or 8, so just to see the look on his face of utter confusion, he was freaking out. He took a picture of us." Iacono is tight-lipped about if Cam Cameron will be back for a third season, though.
Iacono also stars in the new Tubi film "Cinnamon," which premiered this June at the Tribeca Film Festival. In the film, which plays adeptly with Blaxploitation tropes, he plays Eddie, a local hustler who falls head over heels for Jodi (played by Hailey Kilgore), an aspiring singer. They come up with a get-rich-quick scheme so they can get out of town and start their new life together on the West Coast, but they get into way more trouble than they expected to.
"You have to pinch yourself and be like, 'Is this actually happening? Do I deserve it?' I definitely started just feeling a little bit like an impostor."
One of the best parts of Tribeca for the New York native was that his family and friends could all come to the premiere. "Film festivals can be so chaotic and a little bit overwhelming, obviously in a positive way," he says. "And it's a vulnerable thing sharing your work with so many people on a big level. So being able to have my grandparents, uncles, aunts, cousins, and my friends from home all be there with me . . . it was just nice to know I had that support there."
Iacono calls "Cinnamon" his "favorite thing" he's ever been a part of. The cast and crew shot the film in just 19 days, which Iacono describes as "kind of insane." But, he says, it really helped him and Kilgore grow their onscreen bond, since they were put into "that challenge" together. And he can't help but praise Kilgore's vocal prowess. "She's got an incredible voice," he says of his costar, who was nominated for a Tony back in 2018 when she was just 19. "That's one of the main things that Eddie sees in her initially. Hailey's voice is just f*cking incredible."
In the film's final act, Iacono gets to go full action hero, serving major "Die Hard" vibes, which the actor says he was initially "a little intimidated" by. But as Iacono explains, he realized, "I can't hold anything back right now, because if I do that, it'll be corny or won't translate." Ultimately, he had "the most fun" filming those scenes and playing the movie's underdog hero.
Iacono also found himself intimidated by his talented costars. The movie's cast includes Pam Grier, Damon Wayans, and Jeremie Harris. "You look around and you see that you're on set, leading a film with the likes of Damon Wayans and Pam Grier?" he says. "You have to pinch yourself and be like, 'Is this actually happening? Do I deserve it?' I definitely started just feeling a little bit like an impostor."
But that feeling of intimidation ultimately ended in a productive space for him. "That whole impostor journey just led me to the conclusion that I had to deliver," Iacono explains. "Because I was sharing a space with such legends, I knew I had to own my space on screen and on set."
"The Summer I Turned Pretty" premieres new episodes Fridays on Prime Video. "Cinnamon" is streaming now on Tubi.
This interview was conducted before the SAG-AFTRA strike began on July 14.