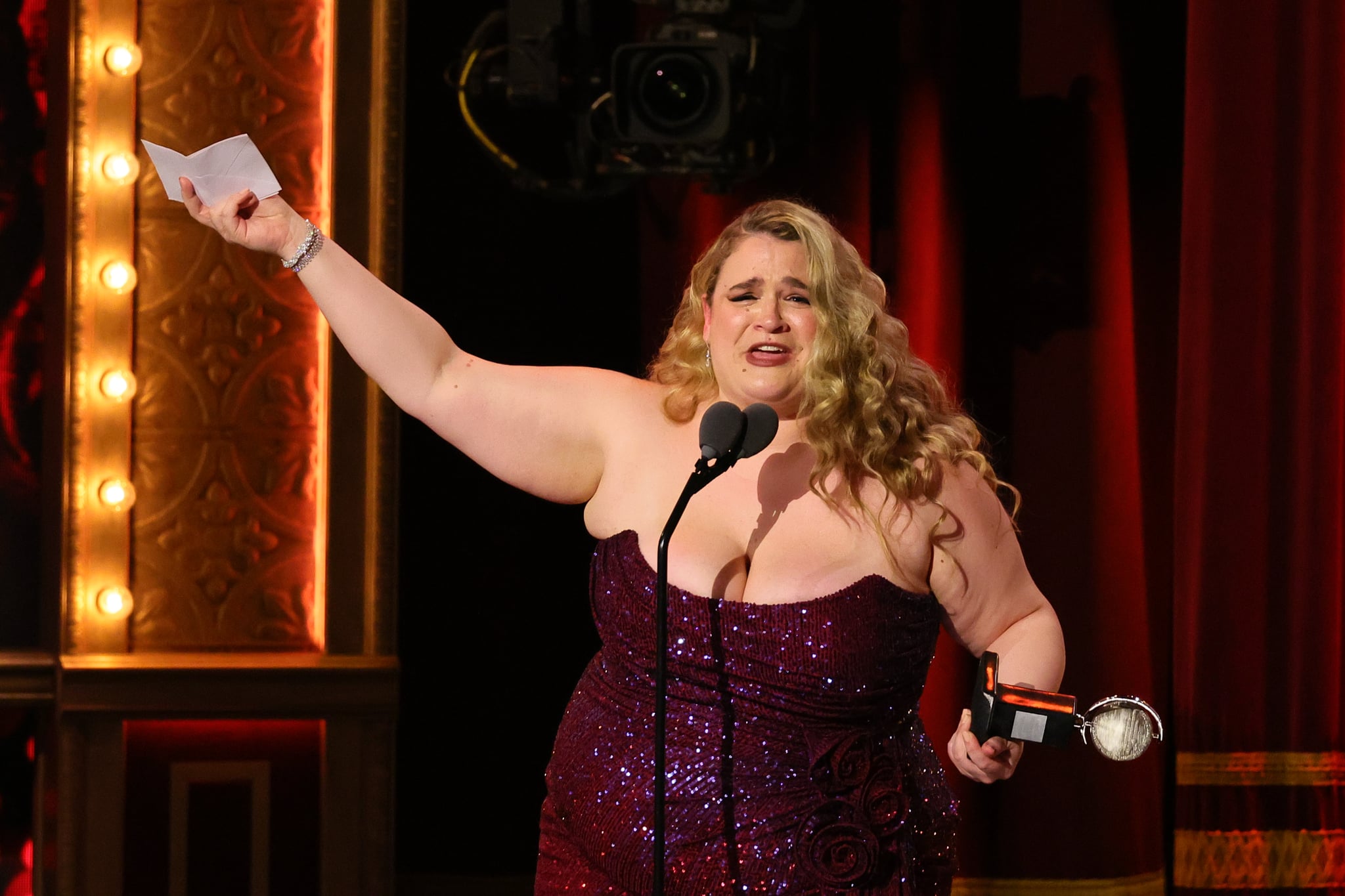 The 2023 Tony Awards just honored a fresh group of incredible talents. Trophies were handed out at the United Palace Theater in NYC on June 11. This year's big winners include "Killing Eve" star Jodie Comer for her role in "Prima Facie," the play "Leopoldstadt," and the musical "Kimberly Akimbo."
"Shucked" star Alex Newell and "Some Like It Hot" star J. Harrison Ghee also made history as they became the award show's first openly nonbinary acting winners. The Tony Awards do not have gender-neutral acting categories. Newell, an alum of "The Glee Project," took home the award for featured actor in a musical. Ghee also won in their category, best actor in a musical.
The annual theater award ceremony was hosted by Oscar winner Ariana DeBose, who is emceeing without a script amid the 2023 writers strike.
Ahead, these are the 2023 Tony winners.
BEST MUSICAL
"& Juliet"
WINNER: "Kimberly Akimbo"
"New York, New York"
"Shucked"
"Some Like it Hot"
BEST PLAY
"Ain't No Mo'"
"Between Riverside and Crazy"
"Cost of Living"
"Fat Ham
WINNER: "Leopoldstadt"
BEST REVIVAL OF A MUSICAL
"Into the Woods"
"Lerner & Loewe's Camelot"
WINNER: "Parade"
"Sweeney Todd: the Demon Barber of Fleet Street"
BEST REVIVAL OF A PLAY
"August Wilson's The Piano Lesson"
"A Doll's House"
"The Sign in Sidney Brustein's Window"
WINNER: "Suzan-Lori Parks' Topdog/Underdog"
BEST PERFORMANCE BY AN ACTOR IN A LEADING ROLE IN A PLAY
Yahya Abdul-Mateen II, "Suzan-Lori Parks' Topdog/Underdog"
Corey Hawkins, "Suzan-Lori Parks' Topdog/Underdog"
WINNER: Sean Hayes, "Good Night, Oscar"
Stephen McKinley Henderson, "Between Riverside and Crazy"
Wendell Pierce, "Arthur Miller's Death of a Salesman"
BEST PERFORMANCE BY AN ACTRESS IN A LEADING ROLE IN A PLAY
Jessica Chastain, "A Doll's House"
WINNER: Jodie Comer, "Prima Facie"
Jessica Hecht, "Summer, 1976"
Audra McDonald, "Ohio State Murders"
BEST PERFORMANCE BY AN ACTOR IN A LEADING ROLE IN A MUSICAL
Christian Borle, "Some Like It Hot"
WINNER: J. Harrison Ghee, "Some Like It Hot"
Josh Groban, "Sweeney Todd: The Demon Barber of Fleet Street"
Brian d'Arcy James, "Into the Woods"
Ben Platt, "Parade"
Colton Ryan, "New York, New York"
BEST PERFORMANCE BY AN ACTRESS IN A LEADING ROLE IN A MUSICAL
Annaleigh Ashford, "Sweeney Todd: The Demon Barber of Fleet Street"
Sara Bareilles, "Into the Woods"
WINNER: Victoria Clark, "Kimberly Akimbo"
Lorna Courtney, "& Juliet"
Micaela Diamond, "Parade"
BEST PERFORMANCE BY AN ACTOR IN A FEATURED ROLE IN A PLAY
Jordan E. Cooper, "Ain't No Mo'"
Samuel L. Jackson, "August Wilson's The Piano Lesson"
Arian Moayed, "A Doll's House"
WINNER: Brandon Uranowitz, "Leopoldstadt"
David Zayas, "Cost of Living"
BEST PERFORMANCE BY AN ACTRESS IN A FEATURED ROLE IN A PLAY
Nikki Crawford, "Fat Ham"
Crystal Lucas-Perry, "Ain't No Mo'"
WINNER: Miriam Silverman, "The Sign in Sidney Brustein's Window"
Katy Sullivan, "Cost of Living"
Kara Young, "Cost of Living"
BEST PERFORMANCE BY AN ACTOR IN A FEATURED ROLE IN A MUSICAL
Kevin Cahoon, "Shucked"
Justin Cooley, "Kimberly Akimbo"
Kevin Del Aguila, "Some Like It Hot"
Jordan Donica, "Lerner & Loewe's Camelot"
WINNER: Alex Newell, "Shucked"
BEST PERFORMANCE BY AN ACTRESS IN A FEATURED ROLE IN A MUSICAL
Julia Lester, "Into the Woods"
Ruthie Ann Miles, "Sweeney Todd: The Demon Barber of Fleet Street"
WINNER: Bonnie Milligan, "Kimberly Akimbo"
NaTasha Yvette Williams, "Some Like It Hot"
Betsy Wolfe, "& Juliet"
BEST BOOK OF A MUSICAL
"& Juliet" by David West Read
WINNER: "Kimberly Akimbo" by David Lindsay-Abaire
"New York, New York" by David Thompson and Sharon Washington
"Shucked" by Robert Horn
"Some Like It Hot" by Matthew López and Amber Ruffin
BEST ORIGINAL SCORE (MUSIC AND/OR LYRICS) WRITTEN FOR THE THEATRE
"Almost Famous," Music by Tom Kitt, lyrics by Cameron Crowe & Tom Kitt
WINNER: "Kimberly Akimbo," Music by Jeanine Tesori, lyrics by David Lindsay-Abaire
"KPOP," Music and lyrics by Helen Park & Max Vernon
"Shucked," Music and lyrics by Brandy Clark & Shane McAnally
"Some Like It Hot," Music by Marc Shaiman, lyrics by Scott Wittman & Marc Shaiman
BEST SCENIC DESIGN OF A PLAY
Miriam Buether, "Prima Facie"
WINNER: Tim Hatley and Andrzej Goulding, "Life of Pi"
Rachel Hauck, "Good Night, Oscar"
Richard Hudson, "Leopoldstadt"
Dane Laffrey and Lucy Mackinnon, "A Christmas Carol"
BEST SCENIC DESIGN OF A MUSICAL
WINNER: Beowulf Boritt, "New York, New York"
Mimi Lien, "Sweeney Todd: The Demon Barber of Fleet Street"
Michael Yeargan & 59 Productions, "Lerner & Loewe's Camelot"
Scott Pask, "Shucked"
Scott Pask, "Some Like It Hot"
BEST COSTUME DESIGN OF A PLAY
Tim Hatley, Nick Barnes & Finn Caldwell, "Life of Pi"
Dominique Fawn Hill, "Fat Ham"
WINNER: Brigitte Reiffenstuel, "Leopoldstadt"
Emilio Sosa, "Ain't No Mo'"
Emilio Sosa, "Good Night, Oscar"
BEST COSTUME DESIGN OF A MUSICAL
WINNER: Gregg Barnes, "Some Like It Hot"
Susan Hilferty, "Parade"
Jennifer Moeller, "Lerner & Loewe's Camelot"
Clint Ramos and Sophia Choi, "KPOP"
Paloma Young, "& Juliet"
Donna Zakowska, "New York, New York"
BEST LIGHTING DESIGN OF A PLAY
Neil Austin, "Leopoldstadt"
Natasha Chivers, "Prima Facie"
Jon Clark, "A Doll's House"
Bradley King, "Fat Ham"
WINNER: Tim Lutkin, "Life of Pi"
Jen Schriever, "Arthur Miller's Death of a Salesman"
Ben Stanton, "A Christmas Carol"
BEST LIGHTING DESIGN OF A MUSICAL
Ken Billington, "New York, New York"
Lap Chi Chu, "Lerner & Loewe's Camelot"
Heather Gilbert, "Parade"
Howard Hudson, "& Juliet"
Natasha Katz, "Some Like It Hot"
WINNER: Natasha Katz, "Sweeney Todd: The Demon Barber of Fleet Street"
BEST SOUND DESIGN OF A PLAY
Jonathan Deans and Taylor Williams, "Ain't No Mo'"
WINNER: Carolyn Downing, "Life of Pi"
Joshua D. Reid, "A Christmas Carol"
Ben and Max Ringham, "A Doll's House"
Ben and Max Ringham, "Prima Facie"
BEST SOUND DESIGN OF A MUSICAL
Kai Harada, "New York, New York"
John Shivers, "Shucked"
Scott Lehrer and Alex Neumann, "Into the Woods"
Gareth Owen, "& Juliet"
WINNER: Nevin Steinberg, "Sweeney Todd: The Demon Barber of Fleet Street"
BEST DIRECTION OF A PLAY
Saheem Ali, "Fat Ham"
Jo Bonney, "Cost of Living"
Jamie Lloyd, "A Doll's House"
WINNER: Patrick Marber, "Leopoldstadt"
Stevie Walker-Webb, "Ain't No Mo'"
Max Webster, "Life of Pi"
BEST DIRECTION OF A MUSICAL
WINNER: Michael Arden, "Parade"
Lear deBessonet, "Into the Woods"
Casey Nicholaw, "Some Like It Hot"
Jack O'Brien, "Shucked"
Jessica Stone, "Kimberly Akimbo"
BEST CHOREOGRAPHY
Steven Hoggett, "Sweeney Todd: The Demon Barber of Fleet Street"
WINNER: Casey Nicholaw, "Some Like It Hot"
Susan Stroman, "New York, New York"
Jennifer Weber, "& Juliet"
Jennifer Weber, "KPOP"
BEST ORCHESTRATIONS
Bill Sherman and Dominic Fallacaro, "& Juliet"
John Clancy, "Kimberly Akimbo"
Jason Howland, "Shucked"
WINNER: Charlie Rosen and Bryan Carter, "Some Like It Hot"
Daryl Waters and Sam Davis, "New York, New York"