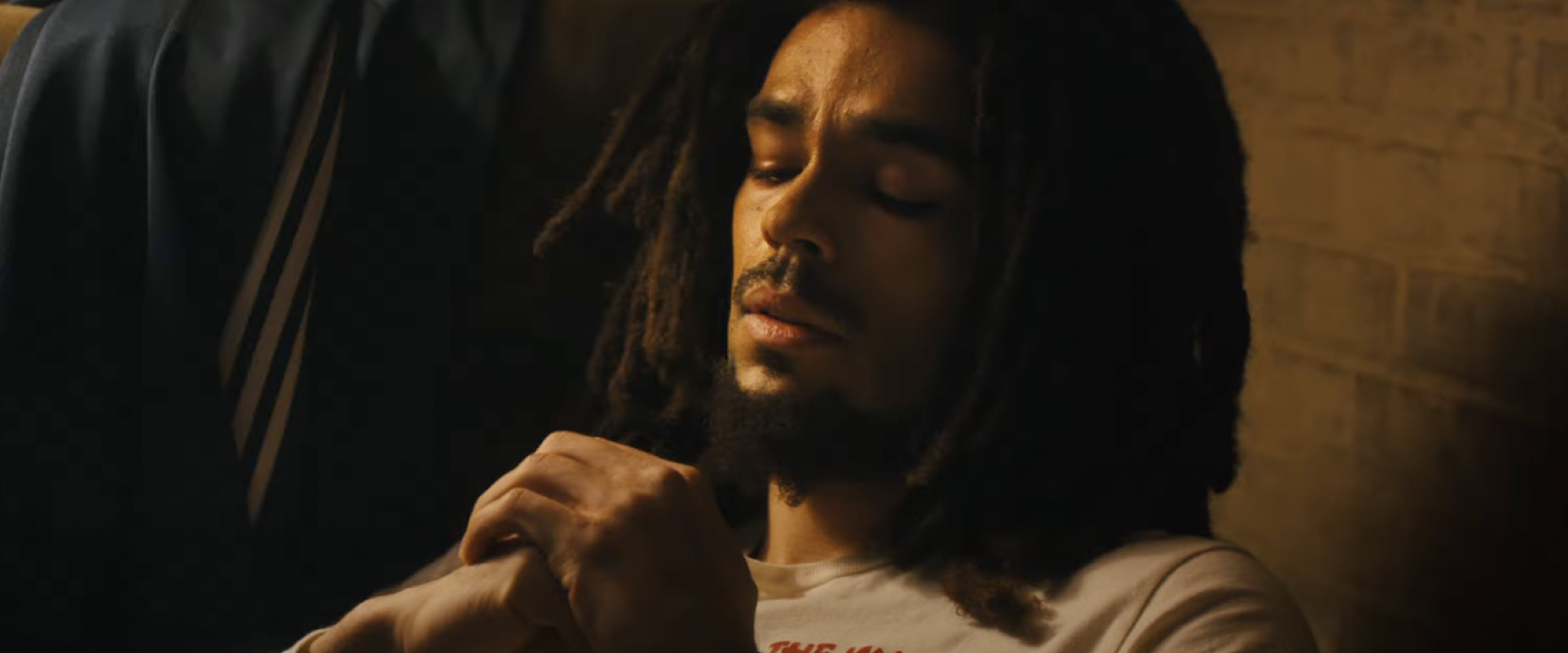 Kingsley Ben-Adir is legendary musician and reggae pioneer Bob Marley in Paramount Pictures's forthcoming biopic, "Bob Marley: One Love." The "One Night in Miami" breakout star was announced to portray the famed Jamaican artist in February 2022 in a film expected to celebrate the life and legacy of Marley — and we finally have a first look at his transformation.
Paramount dropped the first trailer for the sweeping movie on July 6, billing it as Marley's "powerful story of overcoming adversity and the journey behind his revolutionary music." The film is directed by "King Richard" director Reinaldo Marcus Green, with "King Richard" writer Zach Baylin behind the screenplay. The project was also produced in partnership with the Marley family — a crucial part for Green and Marley's son, Ziggy, one of the film's producers.
"To get the blessing of Ziggy and the family to come on and be the steward of the ship was significant for me because I knew that I was gonna get access to things that aren't in the public domain: real conversations and memories from people who were there in the room," Green told Entertainment Weekly of giving the movie authenticity. Ziggy added that making his father's biopic was "exciting and emotional" and he "was very focused on making sure that we represented him right." "Being given that responsibility to help Reinaldo was a very serious thing for me," he continued. "We explored different elements of Bob that people don't know, different emotions that he went through. I actually learned some stuff, too. As someone who was there in this time period, it brings back a lot of memories and things that were hidden inside of me before. It was a very emotional journey."
Unlike most biopics that encompass a majority of a subject's life, EW reported that "Bob Marley: One Love" will hone in on the events that led up to Marley's performance at the One Love Peace Concert in 1978, which occurred amid Jamaica's violent political crisis at the time. "We knew from the very beginning that we didn't want to do a cradle-to-grave story," Green added. "So it's a snapshot of his life that speaks to his entire life. There are flashes to his earlier life and childhood, but it's not about when he was born and when he died. We felt this movie was more about how his music lives on and how his message continues to spread."
Prior to taking on the role of Marley, Ben-Adir played the late Malcolm X in Regina King's Oscar-nominated film, receiving critical praise for his performance. The British actor also starred in a number of TV shows, including "Love Life," "High Fidelity," "Peaky Blinders," "Secret Invasion," and more. Paramount saw much success with the release of its 2019 biopic for Elton John, "Rocketman," and it also has a Bee Gees biopic queued up — set to be directed by Kenneth Branagh. Now it looks to score another big win by bringing Marley's story to the big screen for the very first time.
Ahead, check out the trailer for "Bob Marley: One Love" and find out everything else we know about the film.
"Bob Marley: One Love" Trailer
"Bob Marley: One Love" Cast
Ben-Adir leads the movie's cast as Marley while Lashana Lynch stars as his onscreen wife, Rita. No other cast members have been formally announced as of yet.
"Bob Marley: One Love" Release Date
The biopic hits theaters on Jan. 12, 2024.
"Bob Marley: One Love" Poster