Amanda Scott is quite familiar with the art of pivoting, considering how much her life has changed over the past year. Back in August 2022, the "Sweet Life: Los Angeles" star happily celebrated the return of her Issa Rae-produced reality series — which followed an ambitious group of Black 20-somethings living in South LA — for its second season. However, something felt off. "If you go back and look, we didn't have a ton of promo for season two," Scott tells POPSUGAR. "So that already was like, 'What are y'all doing?'"
Then came the show's cancellation by Max (formerly HBO Max) in December. Scott says she and her castmates — Jerrold Smith II, Cheryl Des Vignes, Rob Lee, Briana Jones, Rebecca Magett, Tylynn Burns, Jaylenn Hart, P'Jae Compton, and Myami Woods — were all sad to hear the news because "we were just finding our footing." She adds, "It was definitely like a little stab to the heart."
"It was definitely like a little stab to the heart."
But don't worry; Scott says "the gang is still together." And same goes for her and her boyfriend, Lee. "We're doing really well. We are still living together," she says.
The PR maven who fans first met in the summer of 2021 has since left the corporate world, embarking most recently on what she calls an "eat, pray, love" journey. "I had to take a little break," Scott says, adding that balancing a 9-to-5 and filming a reality show was "a whole lot" for her. Her step back to pursue personal projects is what eventually led to her latest pivot: a newly launched blog called AmandaSaidSo.com.
The lifestyle platform, named after Scott's social media handles, explores everything from career and travel to love advice and pop culture. According to her, it's an ode to the lost art form that once ruled the Y2K era and her way of getting back to basics.
Ahead, Scott discusses how her new blog came to be and shares more updates on life after "Sweet Life: Los Angeles."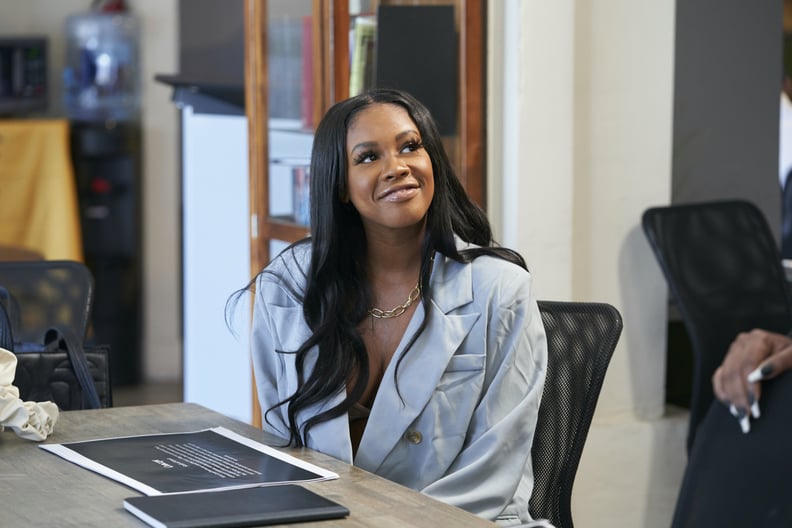 POPSUGAR: What have you been up to since "Sweet Life: Los Angeles" ended?
Amanda Scott: Well, I recently — and you'll see this on the blog — left my corporate PR job, and it's because I was filming "Sweet Life" and working at the same time and it was a whole lot for me. I had to take a little break, so I traveled a lot. I was really on a little eat, pray, love journey these past six months. I've been doing personal projects, which is how the blog blossomed. Still working, always freelancing. Right now, I have a couple of PR clients, and then, of course, I still have my house, so I'm managing that. But I've been taking it easy because it had become a lot for me.
"I also felt like we were just finding our footing and really getting started with a good mix of drama, comedy, and real-life situations."
PS: How did you and the rest of the cast feel when you heard the show got canceled?
AS: We had heard there was a merger and acquisition happening, but I was like, I'm enjoying the moment, I'm going to still put my best foot forward in promoting the show. But when we found out that it wasn't moving forward, it was definitely like a little stab to the heart a little bit. Only because we did two seasons; two really successful seasons. I think that a third season really could've rounded out a lot of stories. I also felt like we were just finding our footing and really getting started with a good mix of drama, comedy, and real-life situations. It was finally mixing well together. So I feel like we could've really came hard in season three. [It] would've been really lit. So the promise of that, that's what I'm sad about.
PS: You said you heard rumblings about the cancellation — was this before or after season two premiered?
AS: Kind of while it was coming out. If you go back and look, we didn't have a ton of promo for season two, like our marketing wasn't super heavy. We didn't really have sponsored posts the way we did season one. We had a couple of billboards, but how much they were spending on marketing wasn't as much, so that already was like, "What are y'all doing?" Of course, no one is overtly saying, "Yeah, this is over." But once you are a part of it and in the entertainment business, you pay attention to the signs.