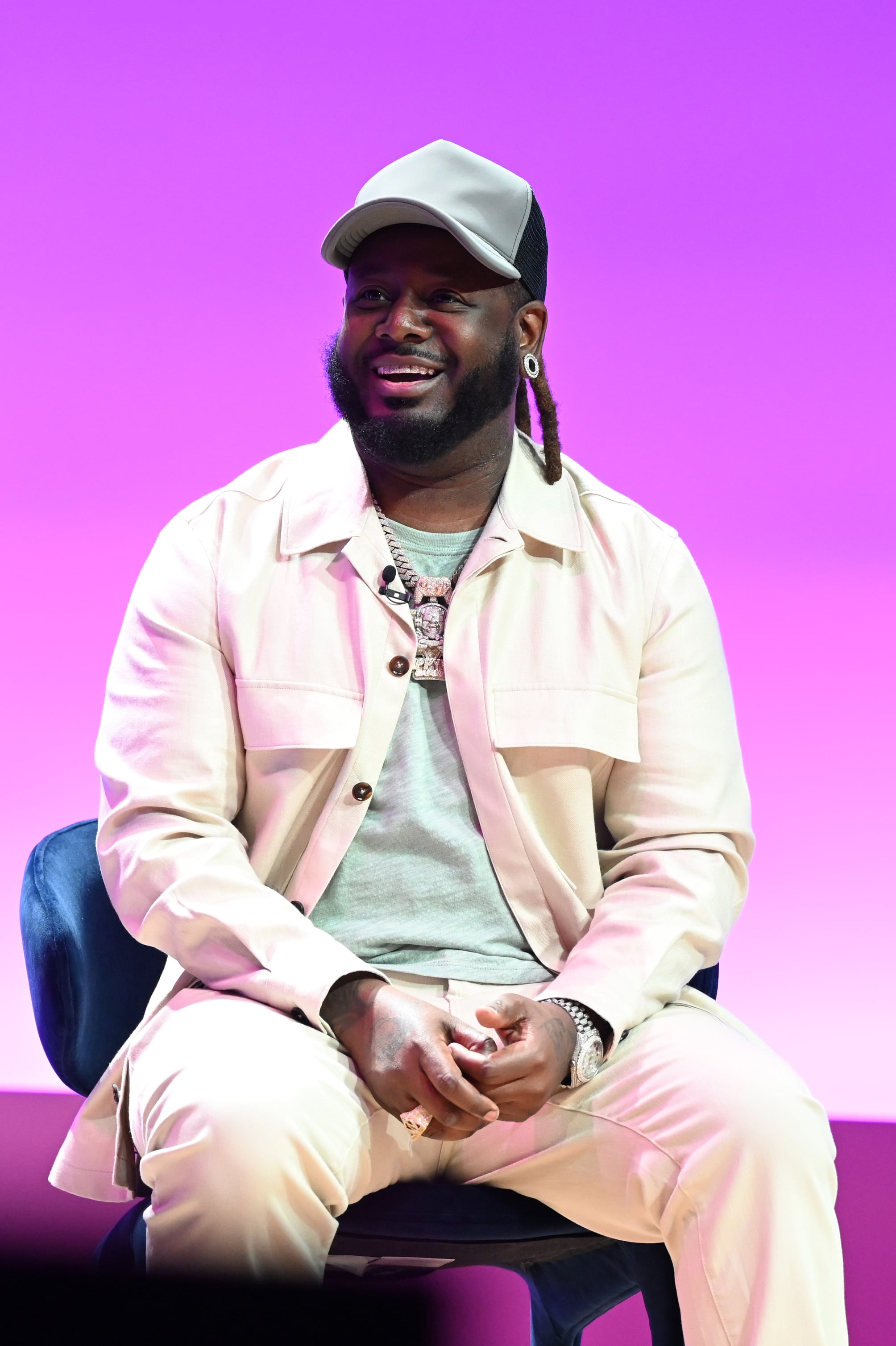 T-Pain considers himself a pretty talented vocalist — no autotune needed. He even dared to test out his skills by releasing a cover album in March titled "On Top of the Covers" — which includes fresh renditions of classics like Sam Cooke's "A Change Is Gonna Come," Journey's "Don't Stop Believin'," and Sam Smith's "Stay With Me." However, T-Pain tells POPSUGAR there's one song on the album that he was nervous to recreate.
"'War Pigs,' and it wasn't because of the difficulty of the song. It was because I was kind of worried about the reception of it because it's just like, 'You sure about that?' You don't go messing with people's classics," he says.
"It was because I was kind of worried about the reception of it because it's just like, 'You sure about that?'"
T-Pain elaborates, "But with the cover album as a whole, I was really, really messing with people's nostalgia, and you don't just go messing with that. Especially something like 'War Pigs' because, man, metalheads are serious about their classics."
"You do not mess with it, especially somebody with this on them," he adds, referencing his skin color and how Black people have been treated in the rock genre historically.
The rapper, singer, and producer isn't shying away from more covers, though. In fact, T-Pain just released his version of Len's 1999 hit "Steal My Sunshine" in partnership with Lipton Iced Tea in time for the summer season. "We wanted to rehash a classic. Lipton is always classic . . . We wanted to bring back a song that was classic to that time," T-Pain explains of the partnership.
[embedded content]
The "Bartender" artist admits he "didn't realize the lyrics were so weird," so he switched them up for his version. However, the partnership still perfectly aligns with his current musical journey. "[Lipton] needed my help with [the new song] because I'm already doing covers," says T-Pain, confidently adding, "So why not go ahead and cover that classic and bring [it] back and do classic things with a classic guy?"
T-Pain's mainstream music career began back in 2005 when he dropped his debut album, "Rappa Ternt Sanga." Since then, he's released countless other projects, racked up 13 Grammy nominations (and two wins), and, most famously, popularized the modern-day autotune wave that's since been adopted by acts like Future, Travis Scott, and even Usher (who once told T-Pain he "f*cked up music for real singers" because of his influence). Still, T-Pain says the autotune criticism was "definitely worth" what's come out of it.
"Because here we are," he says. "Talking about this [partnership and my career]. There's a lot of people that didn't do it. And where are they? So yeah, totally worth it."
"[I'm] doing stuff I like instead of being told what to like. . . . I'm good being the corny guy."
To this day, T-Pain finds it funny that people are shocked by his singing abilities. You'd think his epic winning season on "The Masked Singer" in 2019 would have been proof enough. "There's always been that information out there, so I don't know why everybody's being so damn stupid," he says with a laugh. "But yeah, people are still surprised for some reason. I guess it's not a normal thing."
The singer suggests much of the misperception around his musical talents stems from that autotune era. Though he still doesn't know "why it's different for me" compared to other artists who've dabbled with the tool, too. "They think I don't do anything at all myself. They think it's all computers and I'm just an AI-generated person because . . . I don't know. It's weird," he explains.
Even still, after more than two decades of making music, T-Pain says he's thoroughly enjoying this new chapter of his career — and for one simple reason: "It's a freedom thing." "[I'm] doing stuff I like instead of being told what to like," he reveals. "I'm kind of liberating myself from the constructs of the industry I grew up in and the company I kept with that. I was told that I wouldn't be cool if I didn't like certain things. So I was just like, 'You know what? All right. I don't want to be cool anymore. I'm good being the corny guy.'"
The singer adds that if being "corny" means "I can feel good while I'm making money and I can be happy," then he's "absolutely" content with being "the corniest motherf*cker alive."