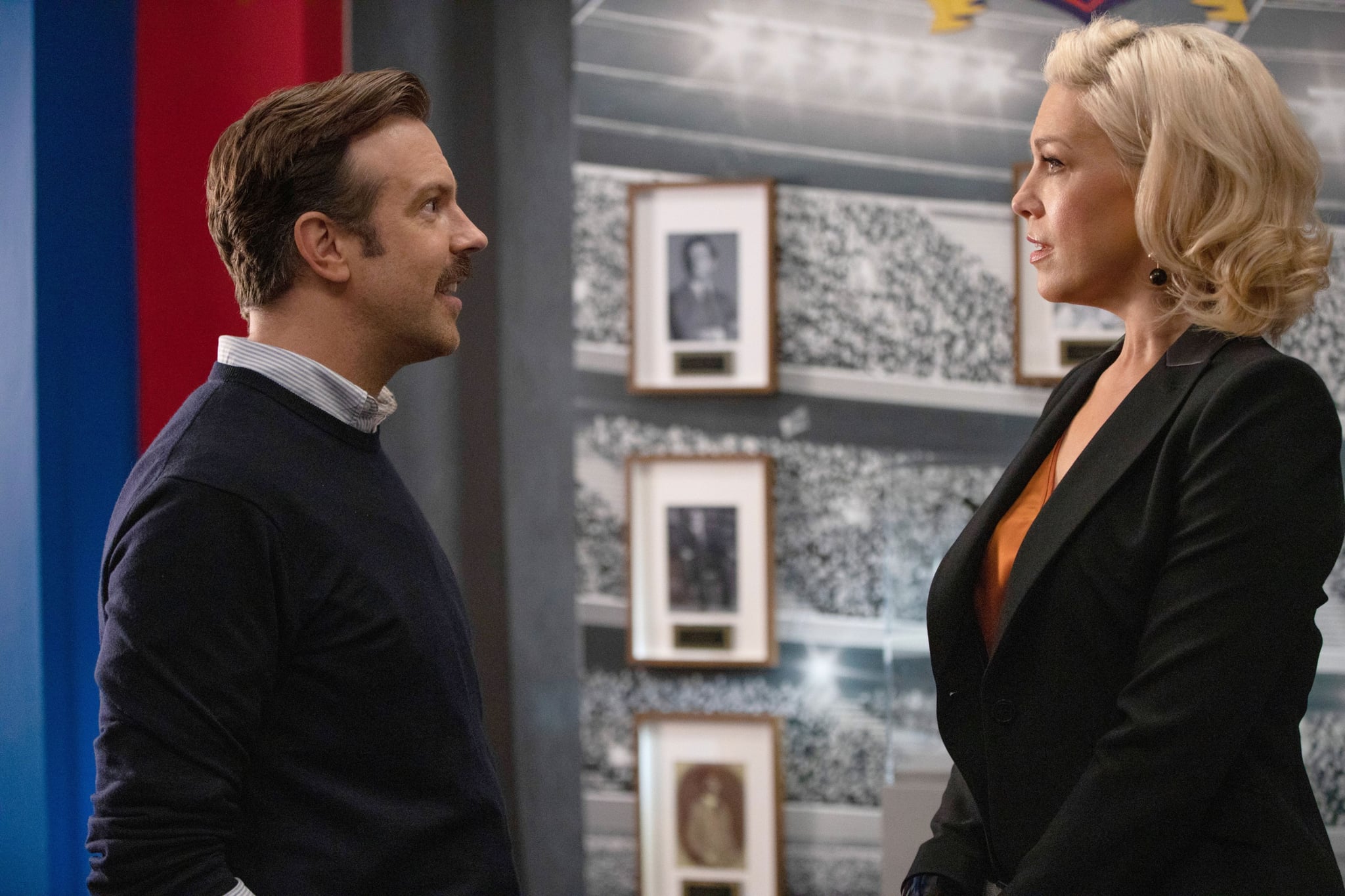 Image Source: Everett Collection
"Ted Lasso" is coming to a close with its third and final season, but not before drumming up some interest in Rebecca's love life. In the fourth episode of season three, the AFC Richmond owner visits a psychic named Tish, per her mom's forceful recommendation. Though highly skeptical, Rebecca keeps her appointment and discovers that the medium's predictions may not be as absurd as she expected.
"It's not long before Tish's predictions begin to come true, manifesting themselves in encounters with Rebecca's exes."
"I can see something," Tish tells Rebecca at the start of her session. "It's in your hand — an object; it's very special. It's a green matchbook. A green matchbook, how lovely." To a confused Rebecca, the matchbook means nothing, but Tish continues on, tapping into her supernatural abilities to deliver an abstract but meaningful message. "Sh*te in knining armor," Tish says, making little sense.
As Rebecca gets up to leave, the psychic throws out one more clue about her future. "Thunder and lightning and you, and you're upside down and you're drenched, but you're safe," Tish says. Seconds later, she adds that Rebecca is going to be a mother one day, touching on one of Rebecca's greatest hopes and insecurities. Infuriated by Tish's nonsense, Rebecca storms out of the session, convinced it was a waste of time.
However, it's not long before Tish's predictions begin to come true, manifesting themselves in encounters with Rebecca's exes.
Will Rebecca End Up With Ted in "Ted Lasso"?
The leading theory among fans is that Ted and Rebecca will be endgame. If true, the relationship would be the culmination of a slow-burn romance that's been building since Ted placed the first box of buttery shortbread biscuits on Rebecca's desk.
Those championing the idea most notably point to a scene in the fifth episode of season three when Ted and Rebecca cross paths in the hallway. Both lost in thought over their individual concerns, they rush past each other, only to pause and turn back for a quick chat. "I know, you're still feeling bad about yelling at me the other day, right?" Ted says, referring to earlier in the episode when Rebecca loses her temper after AFC Richmond is defeated again. "I can be a little bit psychic. It's OK."
"They felt the cosmic tug but they don't understand what happened."
Startled by Ted's use of the word "psychic," Rebecca's face falls, seemingly contemplating if Ted's words hold any deeper meaning. "No, no, yes. I — I shouldn't have bullied you," Rebecca replies, evoking a similar reaction from Ted, who is preoccupied with news that his son, Henry, was involved in a bullying incident at school. The pair go their separate ways once more, each slightly shaken by the coincidences in their conversation. "They felt the cosmic tug but they don't understand what happened," one Twitter user wrote of the scene.
While this interaction wasn't implied in Tish's reading, viewers also note that the "sh*te in knining armor" clue could have a double meaning — aside from the fact that her ex's new fiancé says the jumbled phrase during a chance encounter — given that Henry's soccer jersey features a number nine on it as a nod to his favorite player, Jamie Tartt. "To me it seemed like they really wanted us to see Henry wearing #9, the way he ran into the kitchen," one Reddit user wrote in reference to a scene in season three when Henry runs through the house ahead of his school soccer match.
Just as Rebecca steps through the doorway of Tish's sitting room, she's pulled back when the psychic says, "You will have a family. You're going to be a mother." Angry and hurt, Rebecca, who secretly wants to have a family but hasn't broached the subject with anyone for fear that she's past her reproductive years, storms out of the psychic's home. Later, she visits a fertility specialist who runs a few tests and seemingly confirms that she is unable to have children herself.
If Ted and Rebecca do end up together, it's possible that Henry will become Rebecca's stepson, thus giving her the family she's always wanted and fulfilling Tish's prophecy. A reach? Sure, but it's clear that the writers are trying to misdirect us ahead of the finale, so there's no telling what the truth might be until we get there.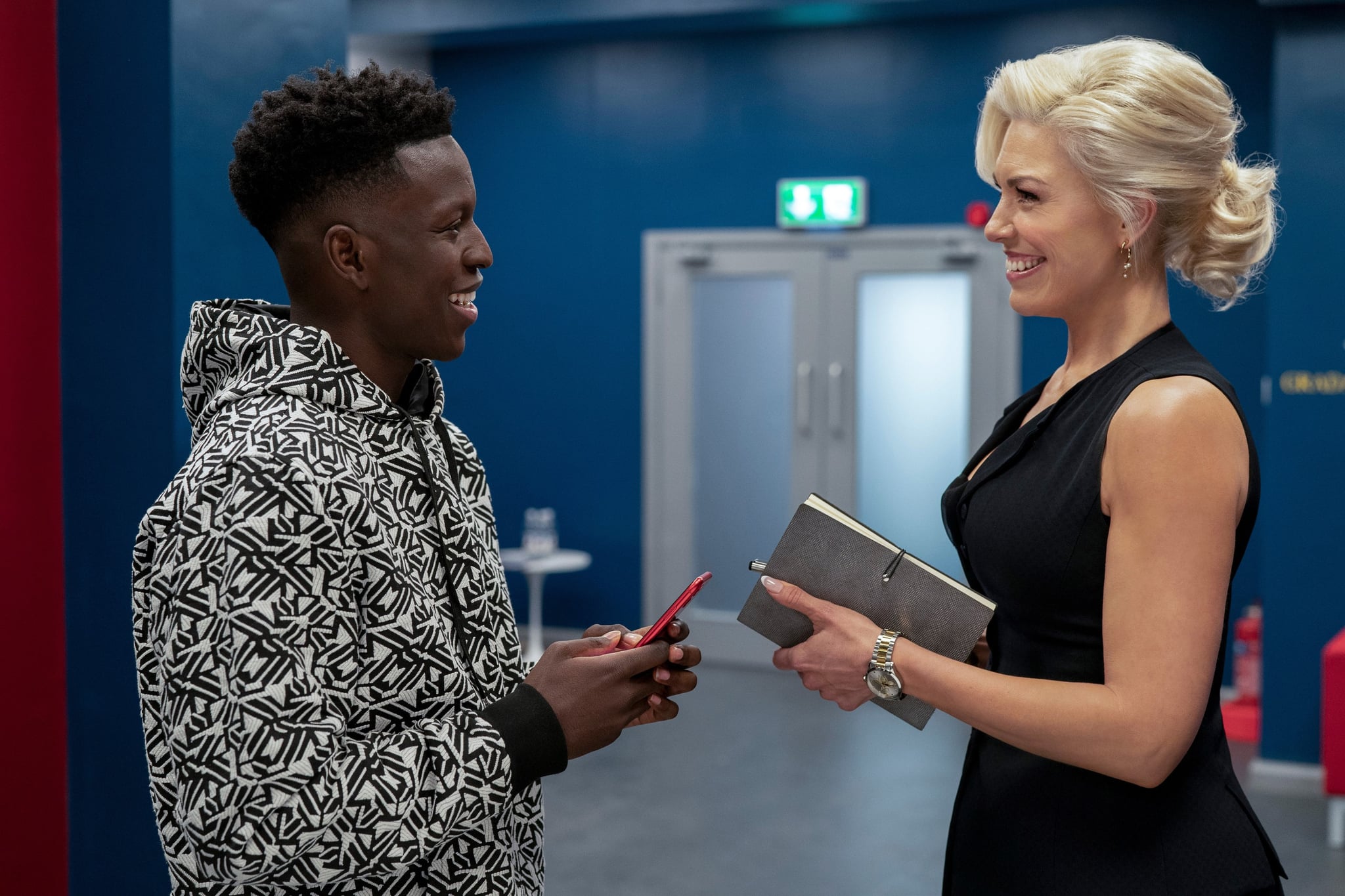 Image Source: Everett Collection
Will Rebecca End Up With Sam in "Ted Lasso"?
Another prevailing theory among the fandom is that Rebecca and Sam will rekindle their romance once and for all. The relationship came as a surprise in season two when the duo matched on Bantr, the dating app promoted by AFC Richmond. While they weren't initially aware that they were talking to one another because the app omits photos, Rebecca and Sam shared a brief but passionate romance after overcoming the initial awkwardness. When Sam was faced with the decision to stay at Richmond or join billionaire Edwin Akufo's growing team, Rebecca decided it was for the best that they split so she wouldn't influence his decision.
Though Sam ended up staying with AFC Richmond, the pair remained separated, addressing each other politely though hesitantly during future encounters. In season three, Sam is seen flirting with a coworker at his newly opened restaurant, igniting a flame of jealousy in Rebecca at the launch party.
Later in the evening, Sam passes out green matchbooks as party favors. When he hands one to Rebecca, the significance of the trinket isn't lost on her. In episode 10, while digging through her purse, Rebecca pulls out the matchbook, along with a green plastic soldier Ted gifted her, and places it on her desk with a smile. Paired with blush-filled conversations between Sam and Rebecca in the hallways all season, subtle moments like this hint that there may still be hope for the pair, but their fate remains unclear. Other theories posit that Tish's "green matchbook" clue may be a reference to the green notebook Ted uses to write notes about the team's matches, so there are many options for what the party favor may mean.
Who Will Rebecca End Up With in "Ted Lasso"?
The final clue in Tish's prophecy hints that Rebecca will meet her true love while she's drenched from a storm filled with "thunder and lightning." Fans initially believed the clue was a callback to season two when, after a subpar double date, Roy Kent told Rebecca that she deserved someone who makes her feel like she's been "struck by f*cking lightning."
Tish also states that Rebecca will be upside down during the fateful encounter, which happens in episode six of season three when AFC Richmond travels to Amsterdam. While standing on a bridge and talking on the phone, Rebecca stumbles and falls into the canal, winding up upside down and drenched. A mystery Dutchman ends up rescuing her and taking her back to his boathouse to dry off. What starts out as a kind gesture turns into a full 24-hour date, complete with wine, homemade dinner, dancing, deep conversations, and foot rubs. Meanwhile, Ted is left thinking about Rebecca as he spends the night in Amsterdam alone, hurt that she hasn't responded to his calls or text messages, indicating that he may have feelings for her.
Sparks fly between Rebecca and the unnamed stranger, and she remains euphoric even after they reluctantly part ways. Even though their time together was brief, it certainly seems like Rebecca has been struck by "thunder and lightning," like Roy mentioned, after all. During her time in the boathouse, Rebecca also notices that her storybook savior has a daughter after she comes across the little girl's room. If the pair do end up together, Rebecca could become her stepmother, tying all of Tish's predictions together. The fact that we don't learn the mystery man's name, though, could indicate this was a one-off encounter.
As of episode 10, Rebecca hasn't heard from the Dutchman again. She's also hardly spoken to Ted and only exchanged a few slightly flirtatious encounters with Sam here and there. After a business meeting with Edwin Akufo erupts into chaos, she and her ex Rupert Mannion share their first real laugh together in decades. The heartwarming moment inspires Rupert to go in for a kiss, which Rebecca promptly rejects. Later, she recounts the unexpected interaction to Keeley, proudly proclaiming that she rejected his advances. With two episodes left in the season, it seems like Rebecca is perfectly happy being single at the moment.
Above all else, "Ted Lasso" is a show about creating your own destiny, so chances are still high that the clues amount to nothing and Rebecca decides her own fate. Of course, the show is tinged with its own brand of wholesome magic, so we'll have to wait two more episodes until the finale to know for sure.