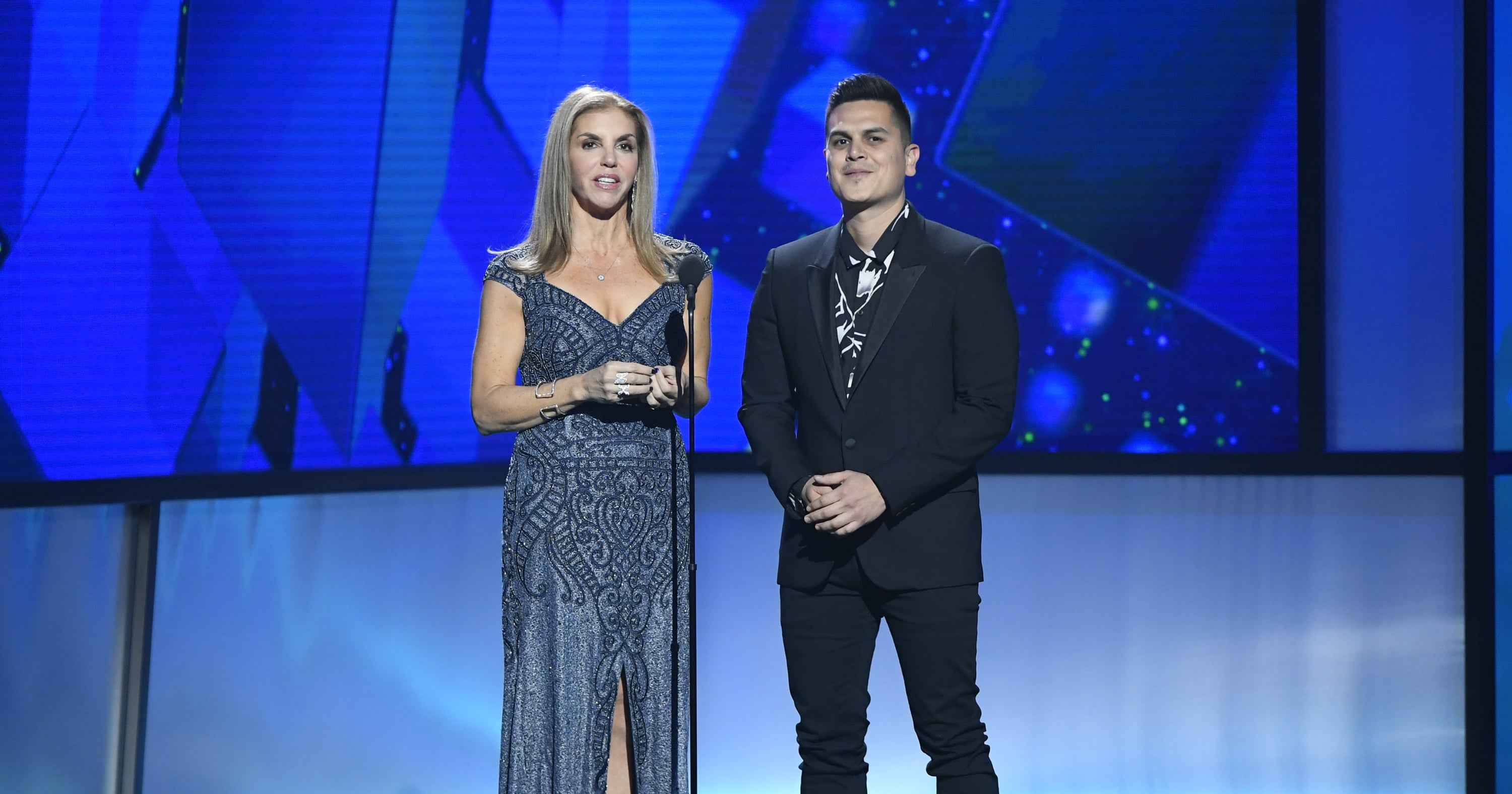 The Billboard Latin Music Awards are almost upon us. And with it, the Latin music industry is kicking into overdrive as the who's who of genres like reggaetón, salsa, música Mexicana y mas battle for chart supremacy over the next few weeks. But with the current lineup of awards shows dedicated to celebrating music from across Latin America, it can be easy to forget that this level of representation and earning power had to be cultivated over decades by the united Latine voices of yesteryear. So, in honor of that contribution, POPSUGAR sat down with Billboard's Chief Content Officer of Latin-Español, acclaimed music expert and bestselling author Leila Cobo, to dive into the history of the award show, how it helped create the market we know and love today, and why it remains relevant after all these years.
When Did the Billboard Latin Music Awards Begin?
To understand the significance of the Billboard Latin Music Awards, we have to go all the way back to 1989. That was the year that Univision launched the award show Premios Lo Nuestro. With the nominees put forward in collaboration with Billboard Magazine, it was the first show dedicated to celebrating excellence across the entire spectrum of Latin music. And while the birth of the actual Latin Billboard Awards wouldn't come until five years later in 1994, the genesis for that venture and the proof that there was indeed demand for it all started here.
When Did the Latin Music Conference Begin?
One of the things that makes the Billboard Latin Music Awards unique among award shows is that they serve as the cap to Latin Music Week. Started in 1990, a year after premios Lo Nuestro, premiered, the conference was originally a one-day seminar that featured five industry panels, two artist showcases, and culminated in the awards show. Since then, the seminar has grown into a weeklong conference where up-and-coming artists can rub elbows with industry folks and benefit from shared knowledge and abundant networking opportunities.
Why the Billboard Latin Music Awards Is Significant
This combination of career building coupled with a celebration of musical excellence and success is what helps the Billboard Latin Music Awards remain significant, even as the Latin genre explodes and awards shows such as the Latin Grammys abound. But an important part of that significance has to do with the unique criteria used to decide the winners and nominees.
"It's the only [award show] based strictly on chart performance," Cobo explains. "We have a couple of 'special' awards like a lifetime achievement award and a spirit of hope award for philanthropic work, but otherwise, everything is based solely on charts. So, we don't call them nominees; we call them finalists because we don't nominate them."
This means that, unlike other award shows, the Billboard Latin Music Awards is influenced by the public's taste in what's hot rather than industry favoritism or clout.
"As much as I like an artist or as much as I might like their music, if they didn't perform high enough in the charts or steadily enough [over time] to be finalists, they won't be. There's no voting. There's no academy of voters. [It's as simple as] these are the finalists based on charts and these are the winners based on charts," says Cobo.
This makes the show more objective than its peers.
How the Billboard Latin Music Awards Changed the Game for Latin Music Artists
Because of the objective nature of how finalists are selected, the Billboard Latin Music Awards are a great barometer for tracking change across Latin music over time. Cobo, who has not only been a crucial part of Billboard and the Awards but also documented the proliferation and evolution of Latin music in her bestselling book "Decoding Despacito," details a time when the genre appeared to stagnate.
"I worried for a long time that there wasn't a recycling of talent. There are times when it just kind of stagnates and you find the same names over and over again," says Cobo.
But with the advent of streaming services and the rise of the SoundCloud generation, Cobo has seen the genre pull itself out of those slumps fueled by the constant creativity and innovation on display by young hungry artists, which in turn puts the pressure on their older, more traditional counterparts to come correct.
Take Shakira for example. With a storied career that spans decades, she holds the record for most Billboard Latin Music Award wins by a woman artist (the record for a man being held by Enrique Iglesias). And while she's got her loyal legion of fans locked in, that hasn't stopped her from working with younger artists like Manuel Turizo and continuing to expand her sound and catalog. At the same time, the chart-focused formula levels the playing field for up-and-coming artists who might not have the same clout or capital to compete with more established artists by factoring in streaming.
"Streaming is more and more important," Cobo says. "One thing that we see is that established artists that might be touring and selling out shows everywhere might not be finalists for the awards because their music is not streamed as much."
While this presents a challenge in evaluating an artist's true impact, it allows for underground artists with loyal fan bases to ride that momentum and challenge for the top spot. For example, Puerto Rican rapper Myke Towers might not be as well known outside the island, but was able to achieve his first global number one with the song "Lala."
The Future of the Awards and of the Genre
At the end of the day, what the Billboard Latin Music Awards and Latin Music Seminar best represents is the ongoing conversation between Latin music's past, present, and future. Yes, the Awards tend to accurately reward what is popular or trending, but the minds behind the vision — minds like Cobo's—work tirelessly to ensure that the final product represents the sound of who we are as a people.
"For me having a discovery aspect to what we put on television is really important. You know when we did our first Latin Women In Music, we wanted to bring new faces, women who not everybody knows but we think are doing something important," Cobo says."So, we had someone like Thalia, who is an icon, but we also had Maria Becerra, who has huge streaming numbers but is the traditional person you would have on television. And it's important to have people like that on television not only because they do big streaming numbers but because they have something to say."
For Cobo and the Billboard Latin Music Awards, what we say and how we say it is an extremely important aspect of the culture. As Latines, we are separated by vastly different regions and geographic features from mountains to oceans to forests. Yet we are bound by a single language, and that's important. It means that even as we change, even as we evolve, we will always have the opportunity to share with each other and to understand each other. And that's what the award show is really about. Many artists. Many genres. One language. One love.