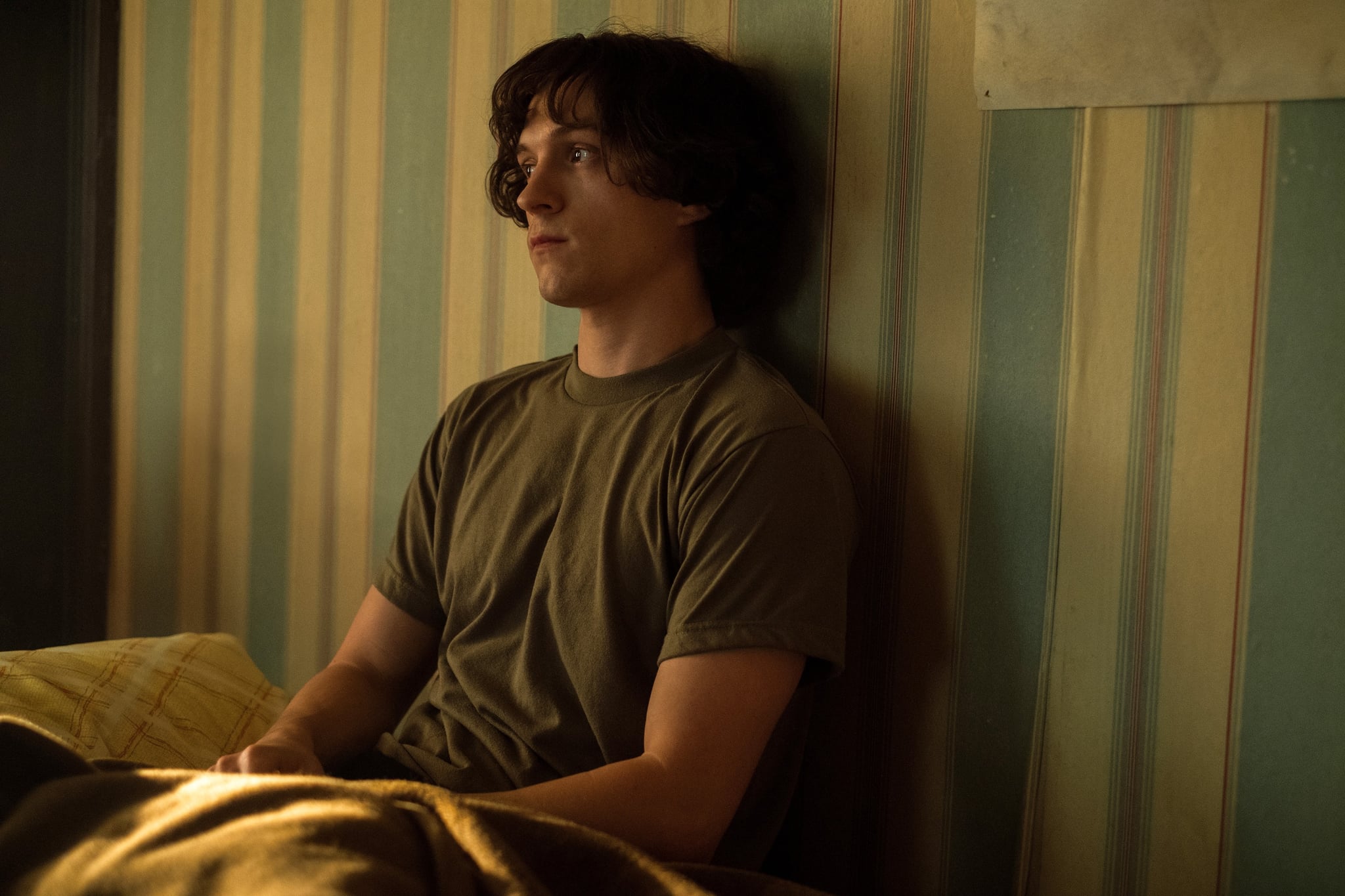 With shaggy hair, tired eyes, and a tortured persona, Tom Holland is hardly recognizable in the latest Apple TV+ series, "The Crowded Room." The limited thriller series premiered on the platform on June 9, and it stars Holland as David Sullivan, a man who is involved in a New York City shooting in 1979. After his arrest, interrogator Rya Goodwin (Amanda Seyfried) seeks to understand his involvement in the crime and slowly gets David to reveal details of his past that led him to the incident.
"The Crowded Room" is not for the faint of heart, and even took a toll on Holland, who recently revealed to Extra that the nature of the show wasn't easy to deal with. "It was a tough time, for sure," he explained. "I'm now taking a year off, and that is a result of how difficult this show was."
The show's time period and crime themes definitely make it seem like it could be pulled from real life, but is "The Crowded Room" actually based on a true story? While the story did not happen in real life, it is based on the 1981 non-fiction novel "The Minds of Billy Milligan" about a real man named Billy Milligan, the first person in the U.S. to be acquitted of a crime by plea of insanity.
Read on to learn more about the story that inspired the chilling series.
Who Was Billy Milligan?
William "Billy" Morrison was born in Miami in 1955 to parents Dorothy Sands and John Morrison, as reported by The Columbus Dispatch. Milligan had a traumatic childhood from a young age, and when he was four years old, his dad died by suicide. After his father's traumatic death, Milligan, along with his mother and two siblings, moved to Circleville, Ohio, in 1960 and later moved to Lancaster, Ohio, in 1963. That year, Dorothy married Chalmer Milligan, who, according to psychiatric reports from Milligan's trial years later, brutally abused him physically and sexually, which caused his core personality to splinter into at least 10 but up to 24 distinctive, separate personalities, per Esquire.
As a result of the abuse, Milligan often got into trouble. By the time he was a teenager, he was hospitalized for several psychiatric problems and diagnosed with a dissociative type of hysterical neurosis, which "involved alterations in the patient's state of consciousness or identity to produce such symptoms as amnesia, somnambulism [a form of sleepwalking], fugue [a loss of awareness of one's identity] and multiple personality," A&E reported. The hospital eventually kicked Milligan out, and afterward, he was expelled from his high school in 1972. He joined the Navy that year, but was discharged after only a month because he couldn't adapt.
This unstable and rocky period created a foundation for Milligan to commit his heinous crimes later.
What Did Billy Milligan Do?
Shortly after his stint with the Navy, Milligan was accused and convicted of rape and served six months in a youth camp in 1972. By 1975, he robbed a drugstore, was arrested, and sentenced to two years in prison. Then, six months after he was paroled in April 1977, Milligan's brutal spree of crimes began.
In October of that year, he was arrested for the kidnapping, robbery, and rape of three Ohio State University students. One of his victims identified him from a series of mug shots of sex offenders and put a swift end to his terrorizing crimes, according to Oxygen.
What Happened During Billy Milligan's Trial?
Following Milligan's arrest, he underwent a psychiatric evaluation, claiming that he was not the person who committed the crimes and had no memory of the events. Rather, he stated that a Yugoslavian man named Ragen committed the robberies, and a 19-year-old woman named Adalana was responsible for the kidnapping and assaults, according to The Columbus Dispatch. An extensive evaluation revealed more about Milligan's state of mind and determined he had an additional eight personalities on top of the two that allegedly influenced the crimes.
During the trial, Milligan was evaluated by nine mental health professionals and officially diagnosed with multiple personality disorder, now classified as dissociative identity disorder. His defense argued that the abuse he experienced as a child and young adult inflicted severe trauma, and the multiple personalities were forged as a result. Factoring in his mental health, his traumatic history, and testimony from police and attorney, Milligan was found not guilty by reason of insanity on Dec. 4, 1978. He was committed to the Athens Mental Health Center and spent the next eight years in different psychiatric hospitals.
What Happened After Billy Milligan's Trial?
In 1986, Milligan escaped from the Central Ohio Psychiatric Hospital and was arrested months later in Miami. Two years later, a psychiatrist determined that he was no longer a threat to society, and he was ultimately released from the psychiatric hospital. After his release, Milligan moved around the United States, with records indicating he had lived in Beverly Hills, Las Vegas, and San Diego. In his later years, he moved back to Ohio and lived in a mobile home that his sister purchased for him until his death from cancer in 2014, as reported by Esquire.
New episodes of "The Crowded Room" hit Apple TV+ on Fridays, so be sure to tune in. In the meantime, check out the trailer below.
[embedded content]