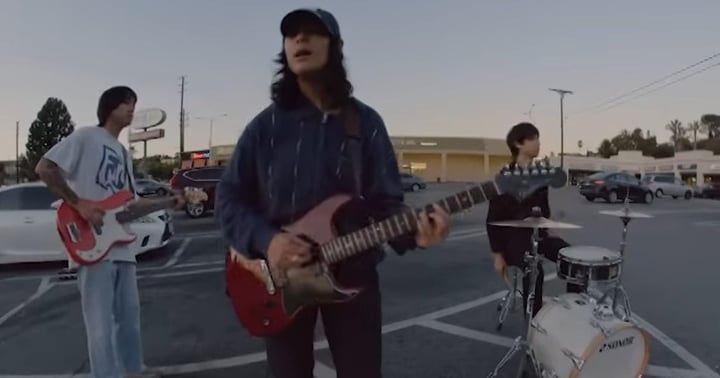 The opening track on "Tender," Zzzahara's sophomore solo album, feels like the doo-wop-influenced surf pop of the '50s and '60s. Then two minutes in, "Dust" delivers the album's first big moment, a serrated guitar solo that rips through the song's old-old-days motif and harkens to the lick that powers the grabby 1974 Wings hit "Let Me Roll It."
It's unexpected, but it's not surprising for fans of the Angeleno's first effort, 2022's "Liminal Spaces." They've again pulled distinct threads from disparate brands of rock and pop from across generations and laced them together for a sparkly, rough-edged collection of varied songs.
"I would describe the sound of Zzzahara as big and melodic," the singer, guitarist, and songwriter told Sound of Life in February. "I think the sound sort of morphed naturally into a more mature sound with lots of thought behind it. Honestly, it's like a medley of different rock genres."
Most prominent are the many offshoots of the British Isles' post-punk movement of the '80s and '90s — indie rock, new wave, shoegaze, jangle pop, gothic rock, neo-psychedelia (hardly an exhaustive list) — followed by New York City's post-punk revival, then those beachy moods that shine on "Dust" and return in a big way for track seven, "U."
Across the album, Zzzahara's casual yet wistful vocals smack of confession, of a private conversation backgrounded by a collection of the backyard shows they attended while coming up in Southern California. The artist sings of past love on "Hey Familiar Face," of frustration and mental health on "Girls on SSRIs Don't Cry," and of their hometown on "Kensington."
"I grew up in northeast Los Angeles in the Highland Park neighborhood," Zzzahara told Sound of Life. "Growing up felt like an episode of 'Skins' but with more diversity, poverty and gang culture. I guess I was raised with street smarts and was able to learn how to navigate through my environment. A cool thing about all the rebellion in Highland Park was the music I was exposed to, and all the cool backyard shows."
While much of what can be said of "Liminal Spaces" can be said of "Tender," that's not to say the projects sound the same. Zzzahara seemingly could produce a hundred albums with the same approach without two songs overlapping (don't rule it out, either; the projects came out 11 months apart). Yet every tune is still unmistakably them, to the point that a fan of the first effort hearing the second with virgin ears in a bar need not confirm the source with the bartender.
Pressed to distinguish the records, I'd say the latter leans ever so slightly more into that early-aughts NYC scene — Strokes-y, Yeah Yeah Yeahs-y riffs; energetic drums and dour, crunchy, Interpol-y bass lines that propel tracks "IDK How to Luv," "Peppermint," and "Hey Familiar Face" — though the light, noodly guitars and cold drums of Britain's The Smiths and The Cure are never far, and you could imagine the latter's Robert Smith somberly delivering each lyric.
"It was an honor to blast these out my head," Zzzahara wrote on Instagram on Sept. 22, "Tender"'s release date. "I've always been bad at communicating so hopefully this resonates with y'all."