So, and this will hardly come as any great surprise to the more eagle‑eyed Birmingham City supporters, it turns out there was a reason Wayne Rooney's 13-year-old son, Kai, recently set about following Gary Gardner, Neil Etheridge and the Birmingham City Community Trust on Instagram after all. It would be a bizarre rabbit hole to burrow at the best of times but all makes sense given Rooney is primed to take charge at the Championship club, succeeding John Eustace, who was sacked with the team nestled in the playoff spots.
A fine reward for a promising start to the season? Birmingham, a club that had until recently lurched from one crisis to another, have not finished above 17th in the division for seven years. At this point, and in an ideal world it would not need saying, it is important to decry abusive messages reportedly sent towards Rooney's eldest as a result of his social-media spree for what they are: deplorable behaviour. Let's face it, it did not take Poirot – or Wagatha Christie, if you prefer – to uncover Birmingham's desire to bring in Rooney.
There has been a clamour at board level to make a big-name appointment since the US-based Shelby Companies Limited (SCL), fronted by the hedge fund manager Tom Wagner, completed the welcome purchase of the long-distressed club in July. Garry Cook, the Birmingham chief executive who was connected to Chris Kirchner's failed takeover at Derby, Rooney's last club on these shores, is driving the appointment process. Cook has close ties with Rooney's longtime agent, Paul Stretford, and both were involved with Kirchner's attempt to buy Derby.
Birmingham made headlines in August when Tom Brady, the seven‑time Super Bowl champion, was announced as a minority owner and chairman of a new advisory board. At the time Birmingham trumpeted how the NFL superstar planned to make the club "a respected leader in nutrition, health, wellness and recovery" in world football and, before long, Brady was mingling with supporters at the Roost, a pub round the corner from the stadium.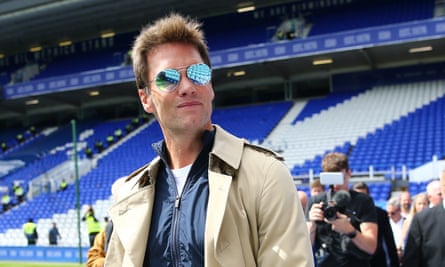 Behind the scenes it has long felt a matter of when and not if Birmingham would make another high-profile addition, though Eustace taking 10 points from a possible 12 and going the first six weeks of the season unbeaten must have given the club hierarchy a headache. Nor was a 3-1 comeback home win against their city rivals West Brom last Friday the ideal platform for them to then pull the rug from Eustace.
Birmingham, of course, have been here before. Midway through the 2016‑17 season they sacked Gary Rowett, with the club on the edge of the Championship playoffs, in favour of appointing Gianfranco Zola. It proved a disastrous call by then owners Trillion Trophy Asia, the former Chelsea striker lasting barely five months and plunging the club into relegation trouble. Zola, who has not managed since, was replaced by Harry Redknapp and Birmingham finished 19th, avoiding the drop on the final day.
What is the old saying? If it ain't broke, don't fix it? It is a turn of phrase Birmingham supporters will doubtless utter over the course of the coming days, the timeframe in which the club hierarchy say they will appoint a manager "responsible for creating an identity and clear 'no fear' playing style", whatever that means. Birmingham certainly did not seem to be holding back as they scored seven goals across their past two games.
Since Rowett's sacking the club has had eight permanent managers in seven years. Eustace helped to provide Birmingham with an overdue sense of stability and unity, which, to the credit of Birmingham's owners, was enhanced by SCL's takeover. But Eustace should take most credit for overachieving on modest resources and simultaneously developing youngsters, evolving the team and restoring supporters' faith in the club. It is not so long ago that protests by disillusioned fans dominated the discourse. Eustace, who spent time in Birmingham's academy before leaving for Coventry at 16, helped to ensure they were being taken seriously again.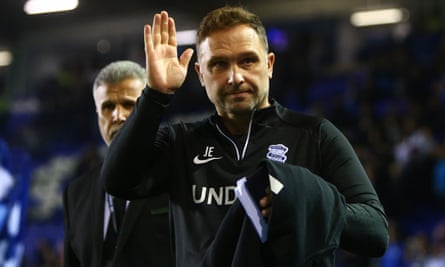 At Birmingham's St Andrew's stadium, where a US flag now flies on top of the main stand, there have been plenty of false dawns, with Garry Monk, Pep Clotet and Aitor Karanka among those who tried and failed to restore the club to the top flight. It ended in tears for Lee Bowyer, another former player, too.
Perhaps it is a good thing, then, that Rooney is familiar with choppy waters. He initially took interim charge at Derby as player-manager in November 2020, then led the club admirably amid administration and the threat of liquidation, though his former assistant Liam Rosenior, now in charge of Championship rivals Hull City, took the majority of training sessions. If Rooney takes charge as expected, his first game will be at Middlesbrough, setting up a touchline duel with Michael Carrick, a former Manchester United and England teammate.
All of this guarantees Rooney, universally recognised as one of the game's greatest, will walk into a strange atmosphere. Rooney undoubtedly galvanised Derby throughout one of the most turbulent periods in their history but, to many, he will pitch up at Birmingham as something of an unwanted VIP guest.